I can't believe it's Valentine's Day already! It's hard to believe that not only is there 6 months until we're married, but
6 years ago today we started dating
, and 1 year ago today we got engaged! I know that I haven't written about the proposal yet, so you'll get that for your Valentine's Day present! :)
Last year for Valentine's Day we were celebrating our 5 year anniversary, and Josh was going to plan our whole day, since it was a Saturday. Honestly, I was expecting him to propose, but I wasn't sure when. I pretty much decided on my own that we would get engaged on our 5 years of dating and married on our 6 year (which would be today, boy was I wrong-you'll hear about that soon). I just always felt that way, and it worked out that it felt right when the time came! He kept the entire day a secret to me, which didn't help my suspicions. There was some down time between each stop, but here's the important stops of the day:
Stop #1:
We drove up to the
Olive Garden
for lunch, our usual meal spot on Valentine's Day. We always go for dinner and exchange our gifts. We got there and got seat. It actually wasn't too long of a wait, even though Valentine's Day was a Saturday at 1pm. We got there, ordered our meals and I think we did our presents then. I gave him a crucifix necklace, and I got a sun catcher: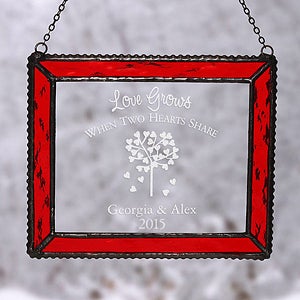 It was cute, but after spending $100 on a necklace (he knew I was getting him an expensive gift), I knew that the sun catcher wasn't my "real" present.
Stop #2:
After the Olive Garden we went over to the movie theater. We saw
He's Just Not That Into You
(yeah, a great movie for Valentine's Day). It was a great movie, and you should go rent it! (It's also a book. I haven't read it, but I hear it's great!)
Stop #3:
We then went to dinner. We went over to
Wendy's
and had a light dinner. We still had one more thing to do, but we couldn't do that until about 7pm.
Stop #4:
When it finally got close to 7pm, we went over to a local skating rink (where the local HS hockey teams play), but had to wait until 7pm to be able to buy our skates and actually get to skate. It was one of the only times we'd been skating that season, so we were pretty sore pretty quick. We didn't skate extremely long, but we did get a good amount of time skating in (about an hour).
At this time, I'm pretty confused as to when he's going to do it. All the events I assumed we were going to do had been done already. I was actually getting a little sad.
Stop #5:
We drove back to Josh's house. I was standing out side of the car waiting, and was pretty confused. I didn't know if he was going to do it inside, or what was going on. He came back out with Daisy and her leash. We were going on a (really, really cold) walk! We started our walk, and I knew that it was going to happen, but where? We were walking around, and as we were wandering around, I was trying to figure out where he was going to do it. We passed by an elementary school (we had our first "real" kiss there), another elementary school (which had a great sledding hill, and was open in the back), and as we turned the corner, it hit me. It was going to happen at the gazebo! We started to turn up the sidewalk to get there, and I knew. He tied Daisy to one of the posts (who was soon occupied by the flagpole-the metal thing was hitting the pole), and he asked me for my phone. Confused, I gave it to him, and he started playing
my favorite song
. He asked me to dance, so we
danced
did the 8th grade sway for a little. The entire time I felt his heart beating pretty hard the entire time, so I definitely knew it was going to happen. The song ended, and he got down on one knee in front of me and asked "Baby, will you marry me?" I started crying and said "Yes!" At 10/10:30pm on Valentine's Day, we officially were engaged! We went back to his house and told his mom, who happened to be on the phone with his dad who was in Honduras. We realized we should have gotten a couple pictures, so we drove back to the gazebo to take some.
More coming on this bad boy in the next post
After we went back to get pictures, we drove back to my house where we got more "engagement pictures" taken.
Yeah, my face was red. Not sure if it was the cold, the wine, or the excitement (all of the above?). The last is me with my flowers he gave me.
The best part, absolutely no one knew this was going to happen before. He didn't tell anyone until he asked my dad permission, that morning. My dad said "That's interesting news, let me go get mom." They were both out in the garage talking, and my mom eventually told my brother, and called my uncle. They were the only ones to know before we left.
The scene of the crime:
Was your proposal a surprise, or did you know it was coming the entire time?
*All photos except the first one of the sun catcher are personal photos.